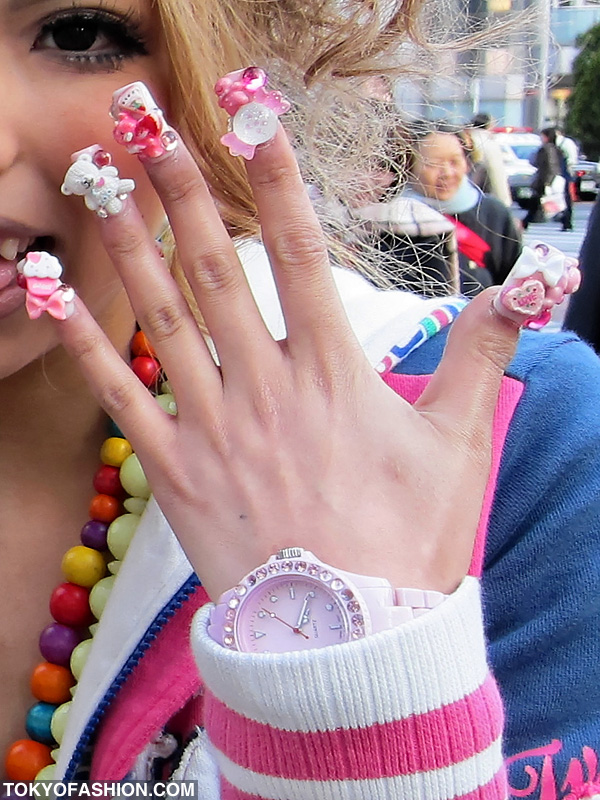 We all know the Harajuku fashion.
Every Sunday, young people dressed in a variety of styles including
gothic lolita
,
visual kei
, and
decora
, as well as
cosplayers
spend the day in Harajuku socializing. The styles they wear are pretty, kawaii(cute) and extreme. The extremer the better, just as their nail art.
The nails are longer than long and their nail art contains lots of colors and 3D decorations. Fimo canes, 3D molds, flowers, rhinestones, nail jewelry, stickers. You name it, they have it.
If you've ever been to Japan or Tokyo and walked into a drugstore you might have seen the aisles with nail art. While we have to get it online, in Japan they sell almost every thing you can think of in just a drugstore.
Let's look at a few pictures I found online of some beautiful Japanese Harajuku and kawaii nail art.
The upcoming pictures are scans from a very popular Japanese magazine. That's right. Nail Up! A magazine all about nail art. How freaking amazing is that! A magazine just about nails and nail art.
I really love wacthing these pictures. I don't think these nail art is actually a thing for me to wear on my nails. I would peel all nail art decoration off of my nails. What do you guys thinks of this extreme level of nail art?
Sources: Tokyofashion.com and Pinterest