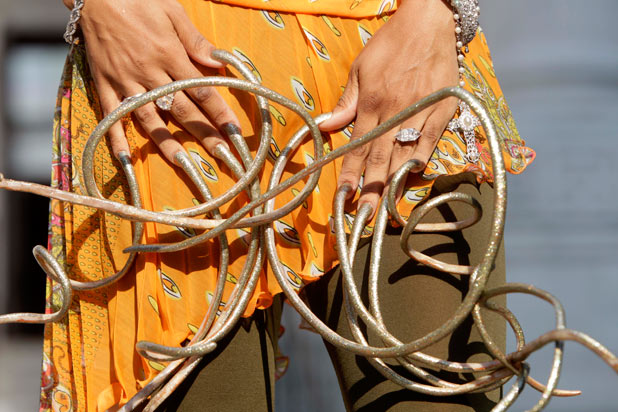 I deal with weak nails. When my nails are "long"(read; a half centimeter tip), they tend to break. That's why I can never grown my nails long long. I never have to cut my nails because they will break after a while. This lady, Chris Walton, hasn't cut her nails since 1990. That's 22 years! Boy, her nails must be strong!
Chris Waltons nails are the longest nails in the world, measuring 30,98 meter/10ft. 2 on her left hand, and 29,21 meter/9ft. 7 on her right. You wouldn't think someone like with 60,19 meter/19ft. 9 long fingernails would be able to do any daily proceedings. Well, she can! Next to being a singer, she is also a grandmother, does ordinary proceedings in the household, uses a regular laptop or computer and plays the piano.. with those fingernails. Chris Walton says driving the car is more difficult with those nails.
It's now official that she really does have the longest fingernails in the entire world. She thought of clipping them. If she does, she has to do it a little bit at a time. "If I cut them all off I will not be able to do anything," Chris Walton said. "I'm so used to having nails I'd be running into walls and doors."
Are you all as shocked as I am? I mean, I love long nails, but this is a little too crazy for me. I mean, she says she can do all daily proceedings, but I'm sure it all takes way longer with those nails. No, I don't need to be in the Guinness Book of Worldrecords with such long nails, probably having physical problems from the weight and the fact those nails are always in your way. What do you think of Chris Walton and her world's longest fingernails?