China Glaze is coming with a new collection this July, it's called Metro Fall.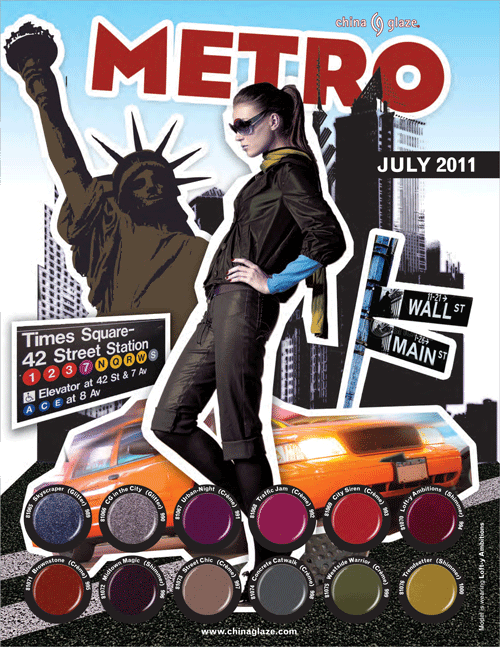 China Glaze Metro Fall is inspired by the city. The collection contains twelve nail polishes with different finishes:
Skyscraper
- A glitter midtone blue polish.
CG in the City
- Grey nail polish with glitter.
Urban-Night
- Creme purple/fushia colored.
Traffic Jam
- Dark pink, creme finish.
City Siren
- A red siren creme color with a hint of cerise.
Lofty Ambitions
- A red an purple shimmer polish.
Brownstone
- Brown with shimmer.
Midtown Magic
- Deep purple with a hint of red shimmer nail polish.
Street Chic
- Taupe, brown and grey colored with a creme finish.
Concrete Catwalk
- Creme finish in the color grey.
Westside Warriors
- Olive green, creme finish.
Trendsetter
- Yellow polish with a green shimmer.
I always found it really hard to imagen how the polishes and colors look like in the bottles and how the swatches will be. But I think City Siren and Midtown Magic will be two polishes that I am going to like.
We will see. The nail polishes are available in July in the USA.